Lists
...Set: Glee 1x12 "Mattress"
I'm going to start off this Glee post with my five favorite quotes of the night (heavily featuring Sue, of course):
"While they were in there, I told them to yank out those tear ducts. Wasn't usin' 'em." - Sue
"You know, you three are boring me now. I'm gonna go do something else." - Sue
"Strangely, it did make me feel more American." - Artie, about getting a patriotic wedgie
"Do you think I have a potato head?" - Finn
"Today it just looks like you put lard in it." - Sue, about Will's hair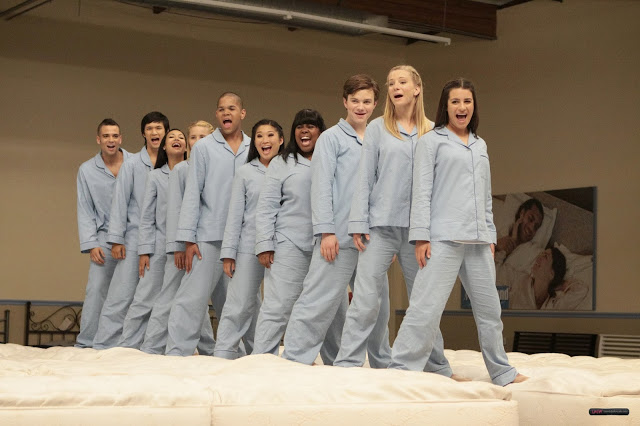 This week was all about the yearbook photos, or a lack thereof, for the gleeks, which ended up leading to a couple major revelations. The biggest one being that Will finally finds out that Terri has been faking the pregnancy. While this show does well with the frothy, I have to say that scene where he confronts her was very powerful. Good on Matthew Morrison, because he looked downright scary and broken at the same time.
The other revelation of sorts was Quinn fully embracing the glee club, delightfully threatening Sue if she decided to go through with her ban of the glee club because of the very cute and fun commercial they made. I have to say I wanted to be jumping around those mattresses with them.
Van Halen's Jump!
We also got two different songs with "Smile" as the title, with very different connotations to each of them... one being the Lily Allen version, the other the Charlie Chaplin one, which of course pulled at the ole heart strings.
Charlie Chaplin's Smile
In the end, the glee club got their picture in the yearbook, but it was defaced just like normal. And Will was disqualified from leading the club to sectionals because of the whole mattresses as compensation for the commercial thing. But next week is sectionals. And it looks like Finn finally finds out just who Quinn's baby daddy really is. After that, it is going to be a desolate four months until the show finally returns in April. Man, I don't want to think about it.
Next Episode
-
Glee 2x13 "comeback"
As the title of this week's episode so helpfully tells us, comebacks were the name of the game tonight. Whether it was Sue trying to get her mojo back, Sam trying to win Quinn over, or Rachel trying to be a trendsetter. Incomplete sentence! Hurrah!...
-
Glee 2x11 "the Sue Sylvester Shuffle"
You know, I remember a time last season when this show had a very similar plot about the football players doing a dance number. Remember? Single Ladies? In fact, lots of the storylines on this show are the same week after week. The glee club gets slushies,...
-
...set: Glee 2x10 "a Very Glee Christmas"
Tonight's holiday episode was overloaded with songs, which is no surprise. Their special episodes always get bloated that way. Not that I don't enjoy Christmas music, but I like Glee so much better when the episodes actually care more about the...
-
...set: Glee 2x09 "special Education"
What's this? It's already time for Sectionals? It seems like the our erstwhile gleeks have barely been preparing for it, unlike last year, when it was all about sectionals. Perhaps that's because they've got so much personal drama going...
-
...set: Glee 1x22 "journey"
Tonight was the big season finale for Glee, and featured our gleeks finally making it all the way to Regionals. Does show choir not have Nationals? Because that seems like it would be bigger. I don't know how any of that works. But also, only three...
Lists