Lists
Filipino fishermen Discovered Chinese Marker
A group of Filipino fishermen discovered three lengthy floating containment booms or buoys located in 3 different Barangays about 6 miles from the disputed Bajo de Masinloc ( Scarborough Shoal) the shoal is about 125 nautical miles (230km) West of the Philippines. The fishermen said they did not know why the buoys were there because there was no sign of any oil spills.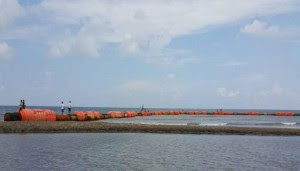 The buoys have markings appear to indicate ownership by China. The markings showed the company that manufactured it and even has phone numbers. Nine fishermen found the orange – colored floating booms in the sea off Zambales and they towed the booms toward the shore and brought them to 3 barangays – Sitio Lanao, San Agustin and Sto. Rosario.
View Full Article
-
Philippines Palawan Naval Base
China defended its land reclamation in the Spratly Islands, saying the new islands would provide civilian services such as weather forecasting and search and rescue facilities that would benefit other countries. With this concern, the Philippine Military's...
-
Philippine Military To Guard Oil Drilling
Public affairs office chief, Lt. Col. Noel Detoyato of the Armed Forces of the Philippines said that the activity to be carried out by an Australian-Filipino consortium would be protected by the Philippine Navy. Its serving for them since they have...
-
Malaysia Asks For Peaceful Solution In South China Sea
Malaysia called for more hard work to stumble on a peaceful solution to increasing tensions in the disputed South China Sea, they would stipulate that China should stop land reclamation and other related actions, they added that Chinese territory...
-
Armed Forces Of The Philippines Needs Weapons To Protect West Philippines Sea
According to Senior Associate Justice Antonio Carpio said that China's historical claim over the South China Sea has no basis at all. It was only in the 1930's that Chinese maps went beyond Hainan Island, China's southernmost territory, adding that...
-
Supreme Court Orders Ph Government To Defend Japanese Drills
The Philippine Supreme Court ordered the government to defend the legality of recent joint military exercises with Japan following a petition by a left-wing political-party. Japanese surveillance plane and about 200 troops held two days of...
Lists