Lists
Raspberry Buttermilk Cake
Oh Costco and your huge portions of food. I see a flat of bright red raspberries and I just can't resist. I mean, seriously, how pretty are they?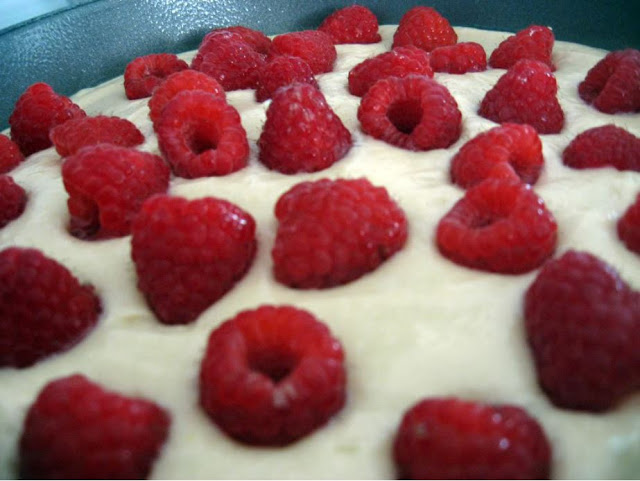 The answer is: very pretty. Perty even.
Thus, with many a raspberry coming out of my ears, I went searching for some recipes. This buttermilk cake was the first one that I had the other necessary ingredients for, so it won out. There's also this other cream pie one that looks delectable, but I did not have about, oh, 40% of the ingredients, and one trip to a grocery store in a day is enough for me. Seriously, grocery shopping? I kinda hate it.
On to the recipe!
Raspberry Buttermilk Cake
(via Smitten Kitchen)
1 cup all-purpose flour
1/2 teaspoon baking powder
1/2 teaspoon baking soda
1/4 teaspoon salt
1/2 stick unsalted butter, softened
2/3 cup plus 1 1/2 tablespoons sugar, divided
1/2 teaspoon pure vanilla extract
1 large egg
1/2 cup well-shaken buttermilk
1 cup (5 ounces) fresh raspberries
Preheat oven to 400°F with rack in middle. Butter and flour a 9-inch round cake pan.
Whisk together flour, baking powder, baking soda, and salt and set aside. In a larger bowl, beat butter and 2/3 cup sugar with an electric mixer at medium-high speed until pale and fluffy, then beat in vanilla. Add egg and beat well.
At low speed, mix in flour mixture in three batches, alternating with buttermilk, beginning and ending with flour, and mixing until just combined. Spoon batter into cake pan, smoothing top. Scatter raspberries evenly over top and sprinkle with remaining 1 1/2 tablespoons sugar.
Bake until cake is golden and a pick inserted into center comes out clean, 20 to 25 minutes. Cool in pan 10 minutes, then turn out onto a rack and cool until just warm, 10 to 15 minutes more. Invert onto a plate.
In photos: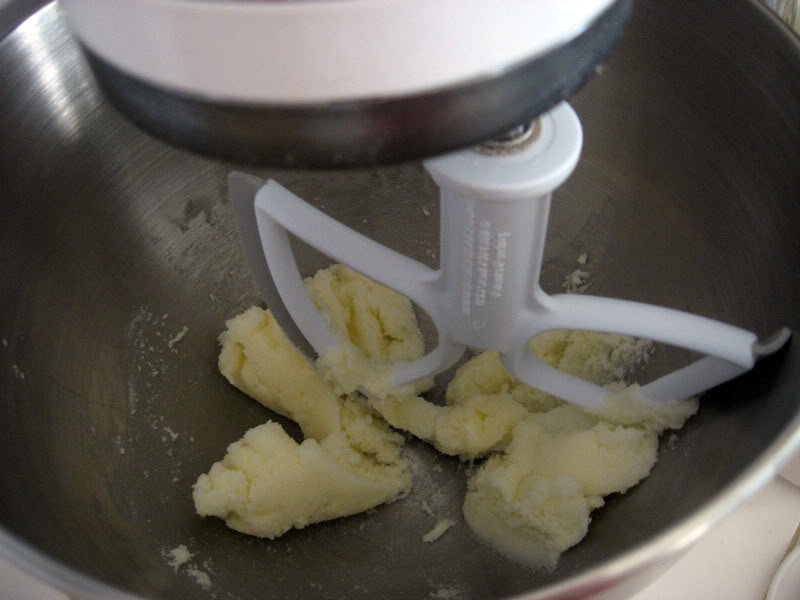 Butter and sugar mixed together.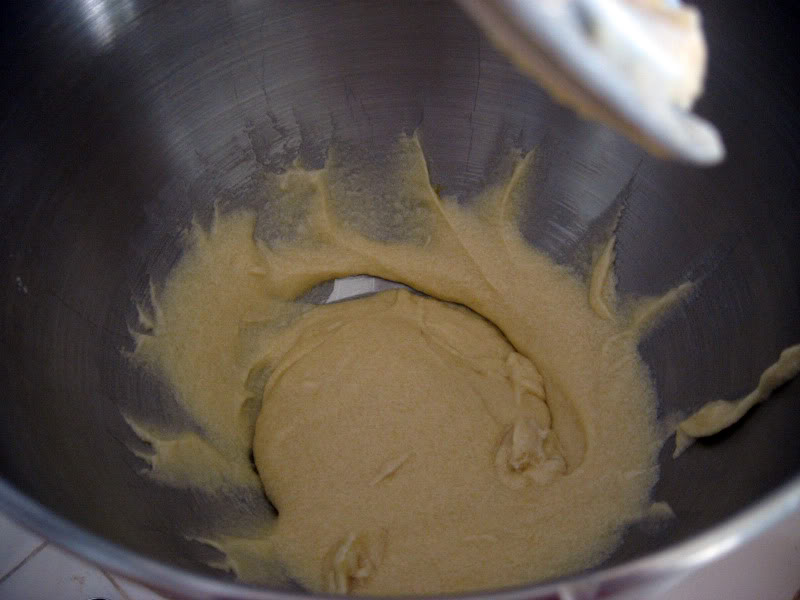 With the vanilla and egg.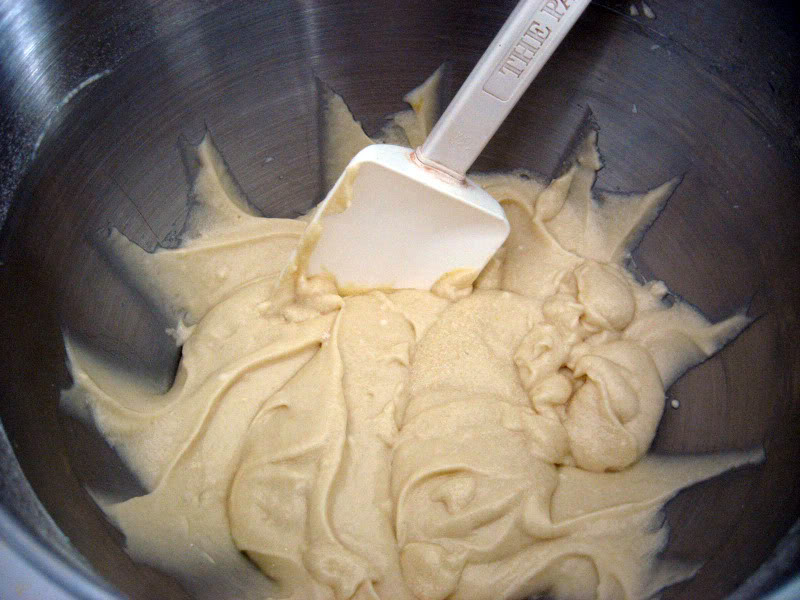 And the buttermilk and flour all mixed in.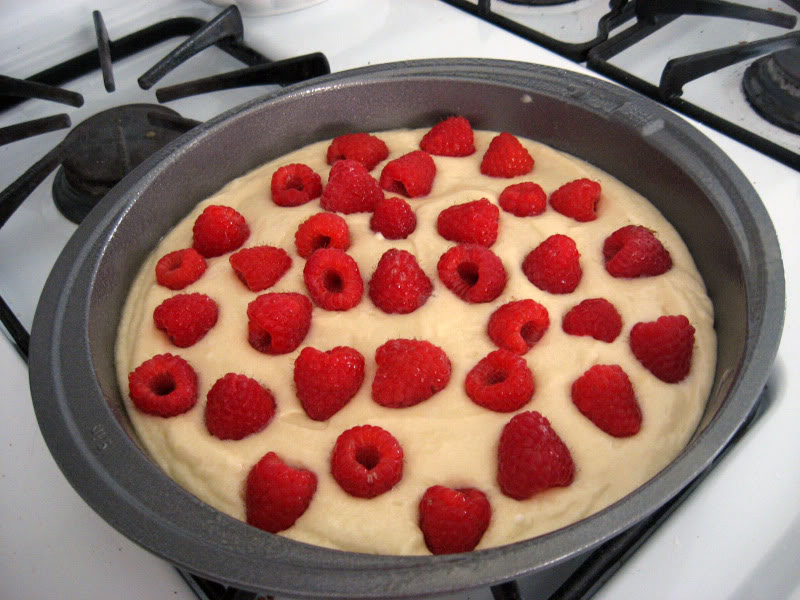 Oooh pretty raspberries!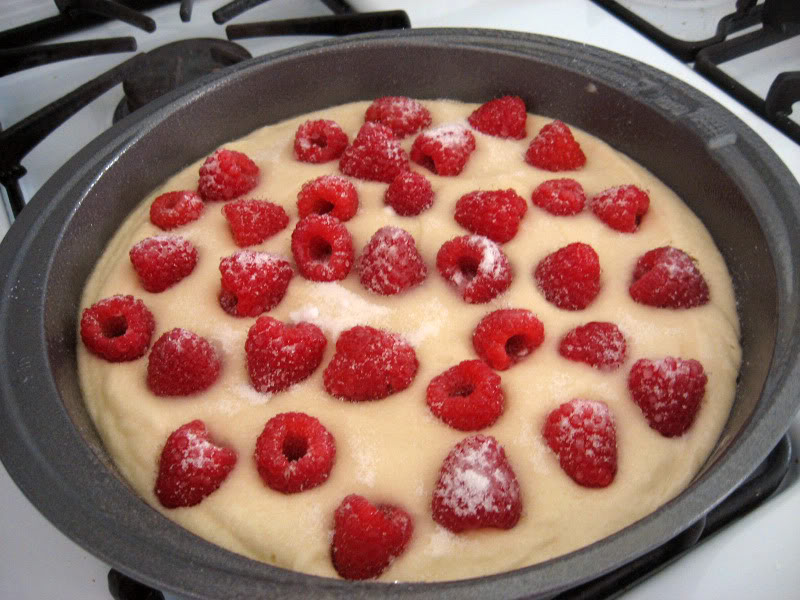 With some sugar on top.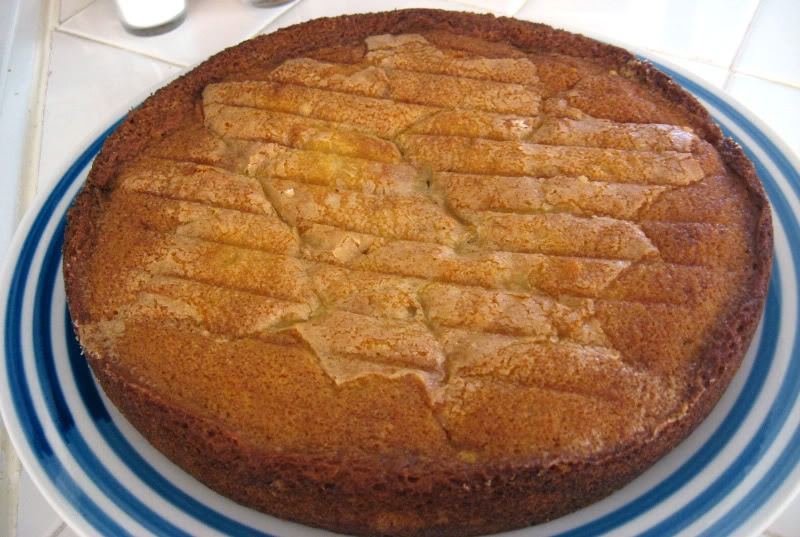 Uh oh, all of my raspberries sank to the bottom! The lines are from the wire rack I set it on. Oh well. If you don't want your berries to sink, you can try tossing them in some flour first.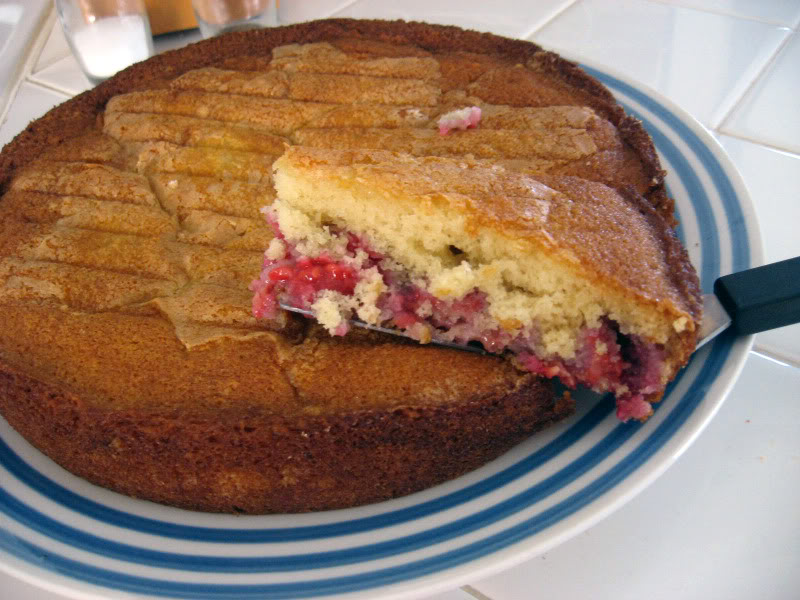 Even though the berries sank, it still tastes great. It's one where you're not sure how much you like it at first, then you find yourself going back for more and more.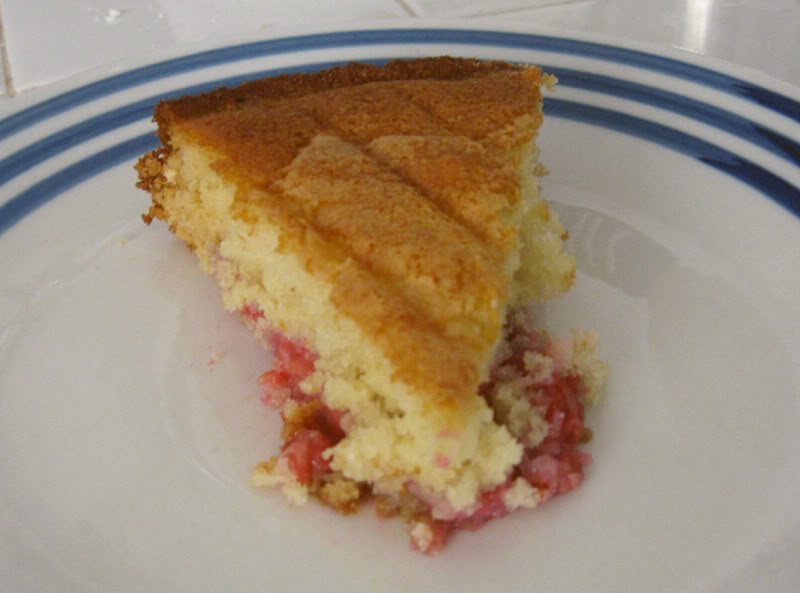 Would also taste great with some whipped cream on top, if you're feeling fancy.
-
Avocado Pound Cake
Have you ever gone to the grocery store, all ready to buy certain things with specific meal ideas in mind, only to find they are literally out of every single thing you wanted? Welcome to my weekend! I mean, sheesh. Was it because of the whole Easter...
-
Coffee Cake Muffins
Have I ever discussed my distaste for grocery shopping? I think perhaps this is inherited, because my mom hates it too. Though, I do think maybe if the grocery stores I liked to go to weren't so damn crowded all the time, it wouldn't be quite...
-
Honey Wheat Pound Cake
Sometimes I sit on my table and eat things while looking out the window. I mean, this is normal, right? Oh look gold toenails! Sorry if you have some aversion to feet. That's my foot. Get over it. I was eating on the table and decided photographic...
-
Raspberry-blueberry Muffins W/ Streusel Topping
This post is coming a few weeks after the fact for these muffins, but that does not diminish their loveliness in mine own eyes. Because these muffins? They're kind of great. You wouldn't necessarily think to combine raspberries and blueberries...
-
Pear Spice Cake With Pecan Praline Topping
Pears pears pears! I made a pear crisp only a couple weeks ago, and here I'm at it again with a pear spice cake! That's what happens when you buy a Costco-sized bag of gigantor pears and you are but one little person. Next time I should try roasting...
Lists