Lists
Supernatural: Best Sex Scenes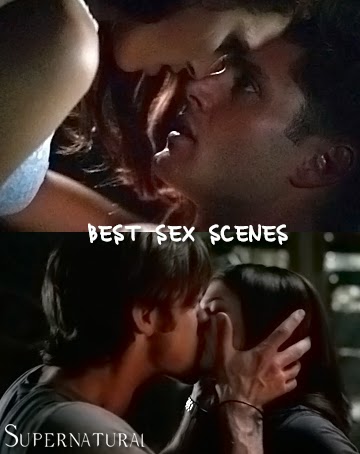 Oh me, oh my! That's right, I'm keepin' it classy for my final ranking list of the summer before season seven starts. But I know you all have dirty minds anyway!
Despite Supernatural featuring two hot male stars in Mr. Padalecki and Mr. Ackles, there really haven't been that many sex scenes in the six seasons the show has been on the air. I'm sure they, and their wives, appreciate it. The viewers? Have to take what they can get. So let's just get straight down to it. The top five (and only?) sex scenes... oh la la
The titles are links to youtube videos. Because you know you want to watch these again.
Sam and Ruby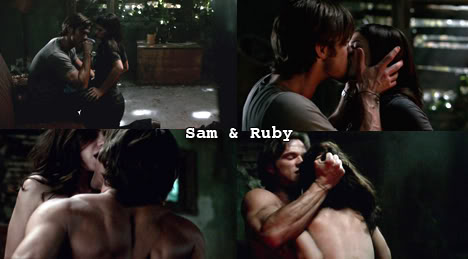 (4x09 "I Know What You Did Last Summer")
This was just all kinds of wrong, we can agree. She's a demon! And manipulating him. Plus he's grieving and clearly still pretty drunk. Not that they aren't pretty, though. They are certainly pretty. And we could see it coming. It didn't make it any less wrong, however. And in this case, it's not really a case of so wrong it's right.
Dean and Cassie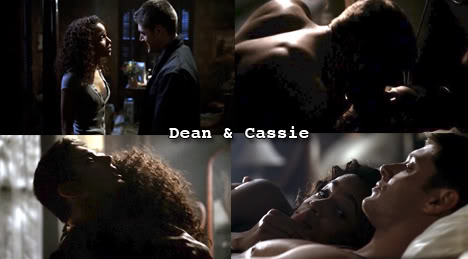 (1x13 "Route 666")
It's...just...so... dark! Dang. We can hardly see what's happening. There's a... back. Some... kissing? Damn you, lighting! Anyway. This is Dean's first sex scene, and, at this point unexpectedly, it is rather tender. You'd think Dean would be the less emotionally invested guy out of the brothers, but it has turned out not to be the case. He just... feels... so... much!
Sam and Madison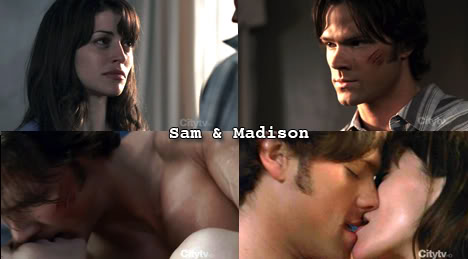 (2x17 "Heart")
Aw, Sam's first sex scene. And wow is it one. The first time we see his sex style. Which is, you know, um... passionate. Maybe a little... rough? Hey, when you're having sexy times with a werewolf, that's probably not a bad thing. Except when you eventually have to kill her. Whoops.
Dean and Anna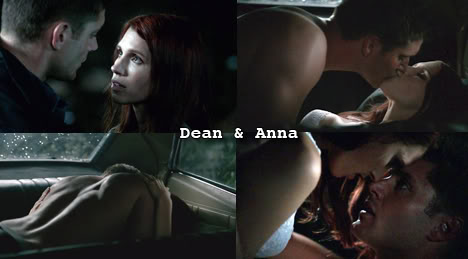 (4x10 "Heaven and Hell")
Why did they have to go and ruin this scene with the hand on the steamy car window? After Titanic, you just can't do that anymore without it being ultra cheesy. But
other
than that, this was one of the most sensual sex scenes on the show.
Sam and Hot Doctor Lady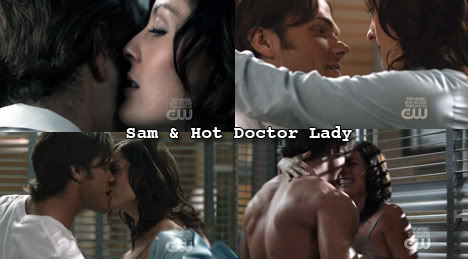 (4x14 "Sex and Violence")
Whereas many of Sam's sex scenes are all about all-consuming passion taking over, this one was all about the slow build. It felt more grown up and natural than his other ones, really. The only thing wrong with it is that it ends entirely too soon!
Interesting observation: three out of these five scenes are from season four! Do you think we'll have any more in season seven? Somehow it seems unlikely. So what's your favorite scene?
For my other top ten lists: go here!
Psst! Hey you! You should totally go like my Facebook page. I'd love you forever and ever. Click and like: http://www.facebook.com/freshfromthe.com.
-
Supernatural: Top 5 Season Nine Episodes
We're about two months away from the season 10 premiere of Supernatural on The CW (that's Tuesday October 10th at 9pm for those not sure). As I do every summer, today I am taking a look back at the best episodes of the past season. You know,...
-
Supernatural: Most Controversial Characters
The Supernatural fandom is nothing if not passionate. Vocally passionate. About everything from plot details to Sam's hair to the subject of this particular post: recurring characters. For the most part, we're a fandom of love. But sometimes there...
-
Supernatural's Top 5 Season Five Episodes
We're in the home stretch! Only two and a half weeks to go until the premiere of season six! Today, I'm going to be going over the top episodes of season five. Arguably the most uneven season of the series to date, season five was a bit of a mixed...
-
Supernatural's Worst 5 Episodes (seasons 1-5)
Anyone who knows me, or even reads this blog, will have figured out by now that I am a big Supernatural fan. I mean, just look at the plethora of lists I have done over this summer hiatus (you can see the whole list at the bottom of this post)! But let's...
-
Supernatural: Top 5 Season Two Episodes
Another week of hiatus, another list! This week, I'm focusing on the top 5 episodes of season two, arguably the overall strongest season of the show, in my humble little opinion. Nearly every episode is strong, but some stood out above the rest. Which...
Lists