Lists
SYTYCD S10: Top 8 Perform, 2 Eliminated
Apologies for the delayed post, I was up in Alaska. For reals! I was going to do it on Friday, but alas they don't put the show online legally for forever, apparently.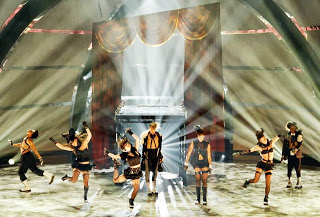 Anyway, this week's show not only features the All-stars, but also features their choreography. Should be interesting! Guest judge is Jenna Elfman. Apparently she does have a dance background, thank heavens. Let's not have another Carly Rae Jepsen experience.
In the bottom four:
Fik-Shun
Jenna
Tucker
Hayley
All do solos, wah wah. I feel like these solos don't really mean anything anymore.
Aaron
& All-Star Chelsie - Jive - This is one dance where his height is kind of a hindrance, since he needs to move his feet so quickly, but he's handling it pretty well. The good news is my eyes aren't always drawn directly to her, so he definitely has some screen presence that some of the others lack. Mary actually gives him constructive criticism.
Fik-Shun
& All-Star Allison - Contemporary - Good contemporary routine, though I did find my eyes drawn to Allison most of the time. He gets quite the screams and applause from the audience. Nigel loves to comment on his journey, and the way he says it basically makes me think Tucker is sunk, though if that isn't the end result, I'll be surprised.
Tucker
& All-Star Courtney - Jazz - This routine is almost too matchy to the music for me. Kind of a weird ending, felt like it ended and then had a little thing at the end. I also love that there's all this saying-without-saying that Tucker is gay and that his father supports him, blah blah. Oh jeez and then they mention Courtney has MS, and now I feel bad dissing the routine.
Paul
& All-Star Comfort - Hip Hop - Will Paul be able to stop smiling in this routine, is the real question. He's hitting the moves, but I'm not sure he's really getting down into it. And yes, the smile does make a few appearances. The judges don't really have many negative comments, and the legion of fangirls that seem to be behind Paul mean he's probably going to the finale whether he really deserves it or not.
Hayley
& All-Star Dimitri - Rumba - Wow, I can already tell this is going to be a sexy routine. Doesn't seem particularly ballroom-y either. Honestly not sure any of the other girls could've done it as well as her. Pretty great. The judges all give her props, as well. Hope they don't save Jenna yet AGAIN.
Jenna
& All-Star Mark - Jazz - You know I love me some Mark. Will be interesting to see what brand of crazy he brings. Pretty quirky and fun routine, seems like he's inspired by Lady Gaga, who he's been working with I believe, which Nigel confirms. Judges are on their feet. Oh jeez, that better not mean they're saving her! Agh! Love that the judges give Mark a lot of props, making him cry! Aww, we allllll love you Mark!!
Jasmine
& All-Star tWitch - Hip Hop - I'm not really sure I got the whole superheroes thing from this routine other than the opening part. Also not sure I really liked the routine that much. She seemed a tiny bit awkward to me; am I the only one? Her legs, though very long and flexible, sometimes are a little goofy. Maybe I'm just looking for something to pick on at this point!
Amy
& All-Star Travis - Contemporary - Well, what is there to say? Travis knocks it out of the park again. Beautiful. Really showcased how good Amy is, and always great to see Travis out there on the dance floor apart from choreographing.
And the two going home are......
Jenna & Tucker
Not a surprise! Next week will be the more nail-biting one. Almost time for the finale! Who do you want to win?
Previous Episode -- Next Episode
-
Sytycd S10: Season Finale
Well, we've made it to the finale of season 10! Which means we have a whole host of guest judges, including tWitch, Adam Shankman, and Paula Abdul joining our stalwarts Nigel and Mary. Of course, we also get to see our favorite routines from the season...
-
Sytycd S10: Top 6 Perform, 2 Eliminated
Only one week to go until the performance finale - guess that means it's official - summer is coming to an end! Can I be honest? I don't know that I particularly care who wins. Sad trombone. Joining Nigel and Mary on the judging panel tonight...
-
Sytycd S10 - Top 12 Perform, 2 Eliminated
Wow, it just gets worse every season, right? Someone is always injured. Tucker has an infection in his knee? How does one get an infection in one's knee? Hmm. Kenny Ortega is this week's guest judge. At least it's someone actually dance related...
-
Sytycd S10: Top 16 Perform, 2 Eliminated
Well, it's been a couple weeks! I almost forgot this was on tonight. But, things got off to a good start with the group routine, which seemed to feature a whole lot of Jasmine, am I right? And, joining Nigel and Mary this week is... Carly Rae Jepsen?...
-
Sytycd S10: Top 20 Performance Show
Fun opening tonight, they've never really done anything like this before with the whole bit through the studio and including the choreographers and judges. I wonder if that was really all one shot done live or if they did a bunch of takes. Pretty...
Lists