Lists
Closed: GIVEAWAY! Supernatural: Fresh Meat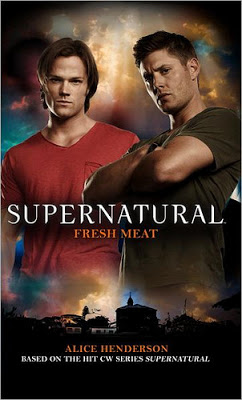 As you may have seen, I was lucky enough to interview the author of the newest Supernatural tie-in novel from Titan Books, Alice Henderson. But that's not all! Not only can you read the interview and get some inside scoop, you can also enter here for a chance to win a copy of the book itself. Details on how to enter are below.
Synopsis: A rash of strange deaths in the Tahoe National Forest bring Sam, Dean and Bobby to the Sierra Nevada mountains to hunt a monster with a taste for human flesh. Soon walking corpses, bodies with missing organs, and attacks by a mysterious flying creature lead the trio to a cunning and deadly foe which can assume a human form and will do anything to survive. When a blizzard strikes the area, and not knowing who they can trust, they must battle not only the monster, but also the elements to survive.
Set in between "Shut Up, Dr. Phil" and "Slash Fiction" in season seven.








How to Enter:
You can enter in up to three ways. That's right, if you do all three, that increases your chances of winning. But you don't have to, you can do one or two or however many you want. The choice, as they say, is yours.
1) Leave a comment right here on this entry
2) Follow me on Twitter and RT the link
3) Like my Facebook page and leave a comment there

The contest will close on Friday March 8, 2013 at 11:59 pm PST. Winner will be chosen at random and announced by the following Monday, if not sooner.

Winner announced: HERE.
-
Giveaway! Seasons Of Mad Men, Nurse Jackie, Weeds And Boss On Bluray
And the winner is... Megon Burkit! Congratulations! Hope you enjoy the BluRays! (Winner was chosen at random) Christmas may be over, but that doesn't mean you can't still get a gift! I've got a prize pack of some random seasons of TV shows...
-
Review Of Grimm - Aunt Marie's Book Of Lore + A Giveaway!
Okay Grimmsters, I've got something for you today that should get you pumped. Titan Books were nice enough to send me a review copy of their new book - Grimm - Aunt Marie's Book of Lore. A must-have for any true Grimm fan! Yeah, you know that...
-
Interview With Alice Henderson
I have a special treat for everyone today! The folks at Titan were kind enough to hook me up with an interview with the author of the new Supernatural tie-in novel Fresh Meat, Alice Henderson! Check out the interview below, and come back on Monday if...
-
Supernatural: The Official Companion Season 7 Review & Giveaway!
Exciting news today! The folks at Titan Books were kind enough to provide me with a copy of the new Supernatural Season 7 Official Companion to share with you guys! As Dean would say: awesome. What's Inside: - Exclusive interviews with the first...
-
Closed: Giveaway! Supernatural: Rite Of Passage
As you may have seen, I recently was given an advance copy of the new Supernatural tie-in novel Rite of Passage by John Passarella to review. I figured, rather than keep it for myself, I'd let one of YOU in on the fun! Check out my review of...
Lists