Lists
Review of Grimm - Aunt Marie's Book of Lore + a Giveaway!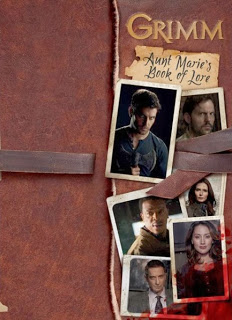 Okay Grimmsters, I've got something for you today that should get you pumped. Titan Books were nice enough to send me a review copy of their new book - Grimm - Aunt Marie's Book of Lore. A must-have for any true Grimm fan!
Yeah, you know that book that Nick looks through occasionally when he has some Wesen he's never encountered before? This is basically a version of that, but in handy glossy-page form. The book explores some of the monsters, weapons and potions featured on the show, with detailed pictures and descriptions. I've got some sample pages below to give you an idea of a couple of them.
Fitting the show's background, many of the entries are in other languages, with some translations "sticky-noted" on in English. Throughout the pages there are little bits of viscera and bugs to make it look like the book has been through the ringer. Most of the descriptions are accompanied by hand-drawn pictures as well as photos from the show itself. There are also some pages devoted specifically to weapons and potions for those who are in to that. I think my favorite thing was one page that had a hole "burned" in it, and you could see through to the next page, and it actually had stuff in the hole from the next page to make it seem like an actual hole. Cool detail.
Some of your favorite Wesen get detailed, including the Blutbad and the Hexenbiest. Overall, it's a fun book that isn't your typical companion piece, but rather feels more like something coming direct from the world itself, which is always cool. You'll probably enjoy it if you're a fan of the show, and especially if you like the lore behind it all.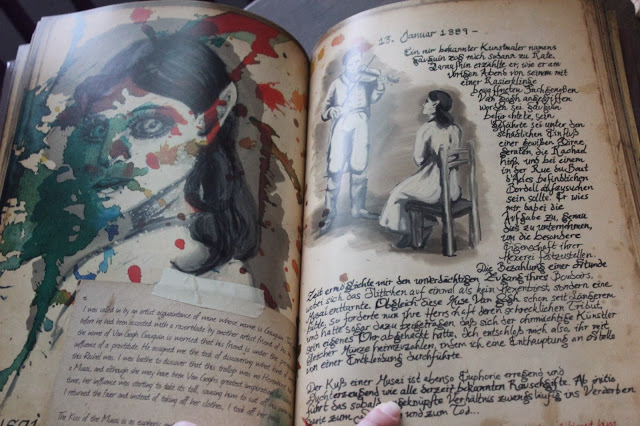 The only thing I would say is that you kind of wish it was upholstered in actual leather, and that it's sometimes hard to read the pages because they are meant to look sort of realistic. I suppose maybe that would be a plus for some people, but I found myself kind of glossing over some things that looked too cramped and hard to read.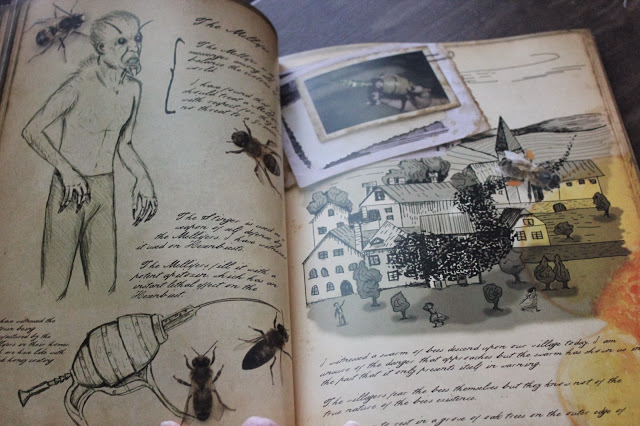 Nonetheless, a fun book that will surely delight any Grimmster out there. I must admit, I have a special place in my viewing heart for this show, because it's filmed in Portland, my hometown. Most episodes I can see some place and go, I know that! I know where that is! And I get all excited and nostalgic and slightly homesick and wish I could somehow work on it up there.

HOW TO ENTER TO WIN!

There are three ways for you to enter, which means three separate entries to win. So, the more of these things you do, the more likely your chance to win!

1. Leave a comment here on this post. Maybe say who your favorite character on the show is for fun. Or what your favorite episode has been. Whatever you want!

2. Like my page on Facebook and leave a comment on there that you're entering to win the book.

3. Follow me on Twitter and RT this tweet.
The giveaway will close on Friday, November 29, at 11:59pm PST.

Winner Announced: HERE.
-
Winner Of Grimm - Aunt Marie's Book Of Lore!
Sorry for the delay on the announcement of the winner of my giveaway of Grimm - Aunt Marie's Book of Lore! I was out of town for the holiday and did not have time. Thank you to all of you who submitted to win! Stay tuned for future giveaways as well!...
-
Book Review: Supernatural: Carved In Flesh By Tim Waggoner
As promised, here is my book review of the latest Supernatural tie-in novel, sent to me graciously by Titan Books. I previously reviewed Rite of Passage and interviewed the author of Fresh Meat, Alice Henderson. But enough about that, let's get to...
-
Closed: Giveaway! Supernatural Tie-in Novel Carved In Flesh
Titan Books were nice enough to give me a review copy of their latest Supernatural tie-in novel, Carved in Flesh. I'll be posting my review of the book soon (Posted!), but wanted to also get a giveaway going, as I like to spread the love, as it were....
-
Closed: Giveaway! Supernatural: Fresh Meat
As you may have seen, I was lucky enough to interview the author of the newest Supernatural tie-in novel from Titan Books, Alice Henderson. But that's not all! Not only can you read the interview and get some inside scoop, you can also enter here...
-
Supernatural: The Official Companion Season 7 Review & Giveaway!
Exciting news today! The folks at Titan Books were kind enough to provide me with a copy of the new Supernatural Season 7 Official Companion to share with you guys! As Dean would say: awesome. What's Inside: - Exclusive interviews with the first...
Lists