Lists
CLOSED: Giveaway! Supernatural Tie-in Novel CARVED IN FLESH
Titan Books were nice enough to give me a review copy of their latest Supernatural tie-in novel,
Carved in Flesh
. I'll be posting my review of the book soon (Posted!), but wanted to also get a giveaway going, as I like to spread the love, as it were. Below you'll find the synopsis of the book and how to enter the giveaway.
Good luck!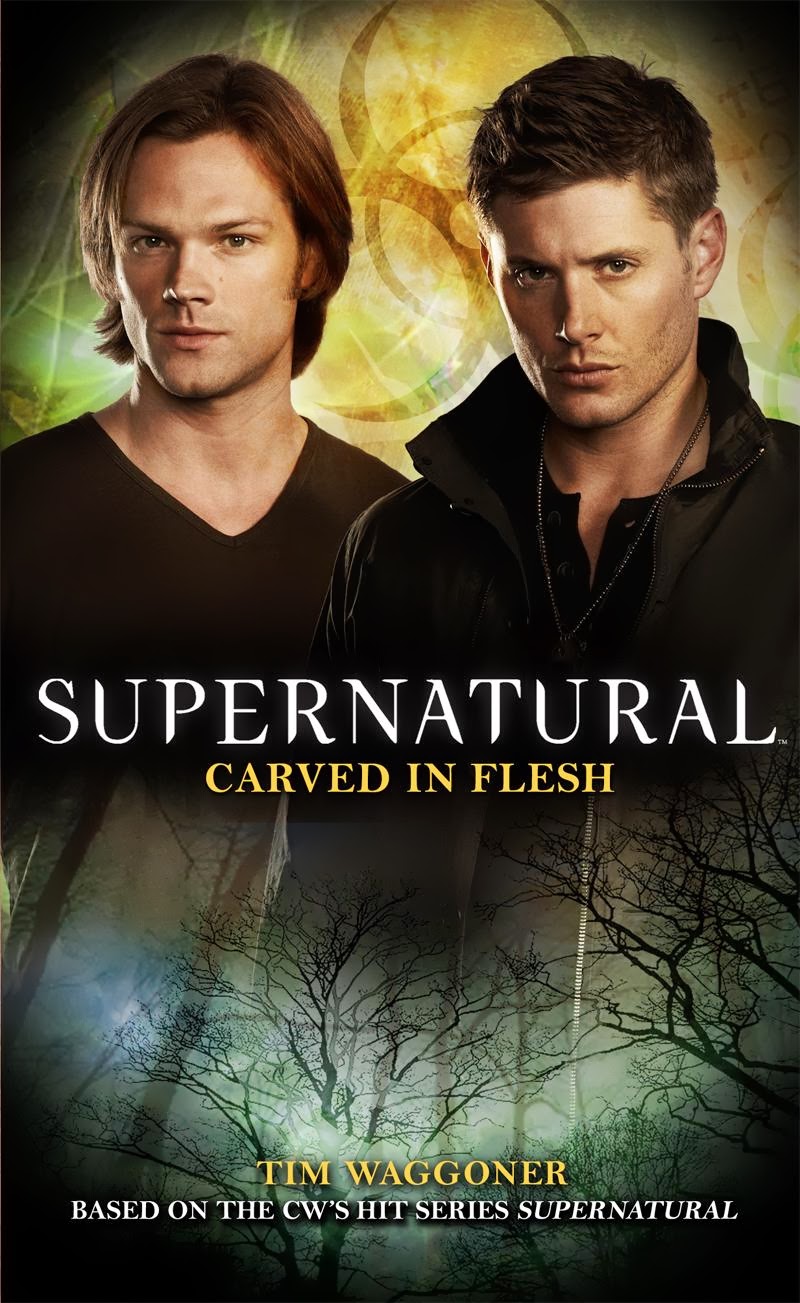 Supernatural - Carved in Flesh
by Tim Waggoner
Synopsis: After Sam and Dean Winchester lost their mother to a mysterious supernatural force as young children, their father taught them how to hunt and destroy the paranormal evil that exists in the dark corners of America. Following their father's demonic death, they discovered that they are descended from a long line of hunters and chose to continue their mission.
Reported sightings of a hellish hound and the discovery of newly dead desiccated corpses bring Sam and Dean Winchester to Brennan, Ohio. But when they catch the monster canine it turns out to be "Frankenmutt", a reanimated patchwork of pieces from separate dogs. Soon the brothers are on a trail that leads from mad scientists and biotechnology to a centuries-old alchemists, walking corpses, and an ancient and malevolent power.
A
Supernatural
novel that reveals a previously unseen adventure for the Winchester brothers, from the hit TV series!
For more information on this and other tie-in novels, visit Titan Books.
HOW TO ENTER TO WIN!
There are three ways for you to enter, which means three entries to win. So, the more of these things you do, the more likely your chance to win!
1. Leave a comment here on this post.
2. Like my page on Facebook and leave a comment on there that you're entering to win the book.
3. Follow me on Twitter and RT this tweet.
The giveaway will close on Friday, July 12th, at 11:59pm PST.
Winner was announced HERE.
Tweet
Pin It
-
Giveaway! Seasons Of Mad Men, Nurse Jackie, Weeds And Boss On Bluray
And the winner is... Megon Burkit! Congratulations! Hope you enjoy the BluRays! (Winner was chosen at random) Christmas may be over, but that doesn't mean you can't still get a gift! I've got a prize pack of some random seasons of TV shows...
-
Review Of Grimm - Aunt Marie's Book Of Lore + A Giveaway!
Okay Grimmsters, I've got something for you today that should get you pumped. Titan Books were nice enough to send me a review copy of their new book - Grimm - Aunt Marie's Book of Lore. A must-have for any true Grimm fan! Yeah, you know that...
-
Closed: Giveaway! Supernatural: Fresh Meat
As you may have seen, I was lucky enough to interview the author of the newest Supernatural tie-in novel from Titan Books, Alice Henderson. But that's not all! Not only can you read the interview and get some inside scoop, you can also enter here...
-
Supernatural: The Official Companion Season 7 Review & Giveaway!
Exciting news today! The folks at Titan Books were kind enough to provide me with a copy of the new Supernatural Season 7 Official Companion to share with you guys! As Dean would say: awesome. What's Inside: - Exclusive interviews with the first...
-
Closed: Giveaway! Supernatural: Rite Of Passage
As you may have seen, I recently was given an advance copy of the new Supernatural tie-in novel Rite of Passage by John Passarella to review. I figured, rather than keep it for myself, I'd let one of YOU in on the fun! Check out my review of...
Lists