Lists
Philippine Air Force to Get Three (3) Brand New Medium Lift Aircraft
The Philippine Air Force (PAF)'s lift capability will be getting a much needed boost with the delivery of three C-295 medium lift aircraft from EADS/CASA-Airbus Military.
This after the Spanish aerospace manufacturer won the contract for the P5.3 billion medium aircraft fixed wing project by the Department of National Defense (DND).
The PAF's medium lift capability is presently being fulfilled by its three F-27 "Friendship" aircraft.
EADS/CASA-Airbus Military's bid for the program only amounted to P5.29 billion.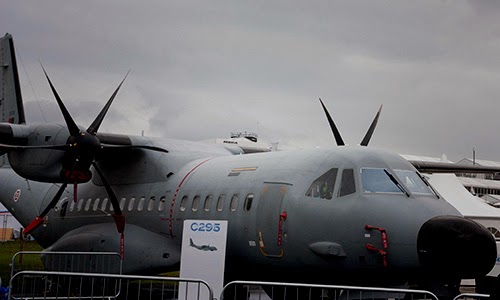 The first plane will be delivered in August 2015, while the second will be in March 2016 and the last one in September 2016, Defense Secretary Voltaire Gazmin stated.
"These aircraft will help in troop and limited equipment movement," he added.
The C-295 is described as "a capable and versatile transport and surveillance aircraft."
EADS/CASA stated that the C-295 can carry up to nine tons of cargo or 71 people
.
It also has a maximum cruising speed of 260 knots and operate in short and rough airfields. (PNA)
JBP/PFN
Source: http://www.pna.gov.ph/index.php?idn=&nid=1&rid=620710
-
United States To Provide C-23 Sherpa Aircraft To Philippine Coast Guard And Army
The C-23 Sherpa is a medium lift transport aircraft, a kind of aircraft that can provide troops airdrop, cargo transport , and can be converted to paramedical evacuation. Philippine Army and Philippine Coast Guard are expected to receive a...
-
Philippine Air Force 2014 Major Acquisition
Year 2014 is a challenging year of Philippines air security where a tension is high but Philippine air force unable to do its fullest role because of equipment scarcity. With this updated list of Philippine Air Force modernization project and some...
-
Bidders File Motion For Reconsideration In Failed Bidding For Long Range Patrol Aircraft
MANILA, Aug. 19 (PNA) -- The seven bidders for the Department of National Defense (DND)'s P5.9-billion LRPA (long range patrol aircraft) project have formally filed their motion of reconsideration. This is to appeal the failure of bidding declared...
-
Indonesia Won Philippine Air Force Light Lift Aircraft Acquisition
Indonesian Firm has won the bidding for the two light lift fixed-wing aircraft project worth Php 814 million. PT Dirgantara would supply Light Lift NC 212i planes to the Philippine Air Force and it is required to deliver ...
-
Philippines To Acquire Cn235 Medium Lift Aircraft
According to its website, the aircraft can accommodate up to 36 paratroopers and up to 18 stretchers with four attendants. Aircraft Capability ASW Capability Transport Troops and Cargo Maritime Patrol Medical Evacuation Source: http://www.airbus.com/aircraftfamilies/military-aircraft/cn-235/...
Lists