Lists
Strawberry Shortcakes
It's strawberry season, friends. You know what that means - tons of strawberries for cheap prices. Which means, if you're like me and live by yourself, you've got to start using those babies up in recipes before they go bad. Because bad strawberries are just sad. Good strawberries, on the other hand - wonderful. Amazing. Fantastic. And, of course, yummy. Can't forget yummy.
So what did I start off with? A classic. Strawberry shortcakes!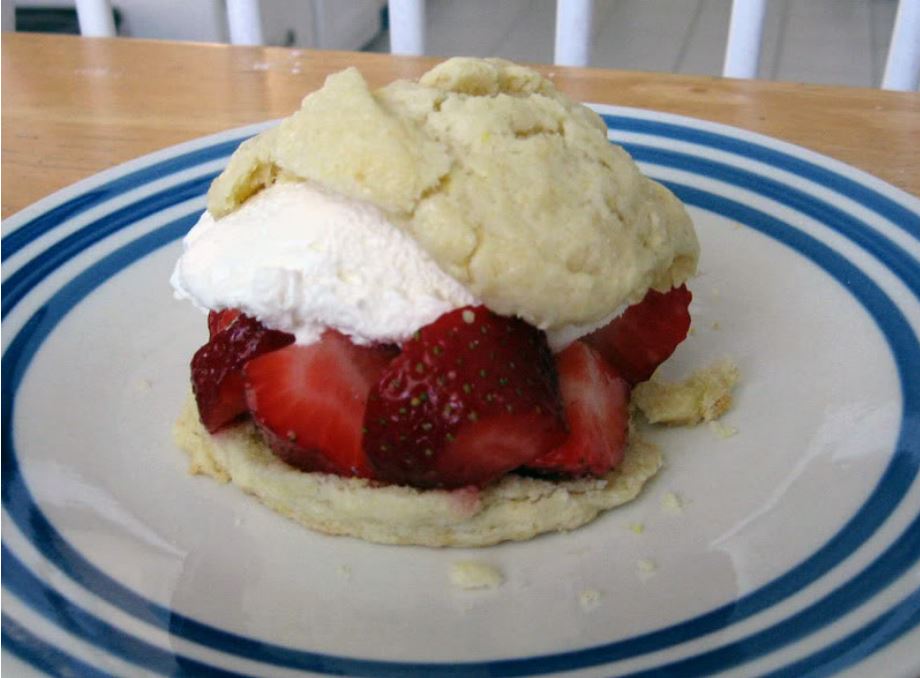 After much perusing of various baking sites that I visit often, this one caught my eye the most. One thing I found totally weird about it - it uses hard-boiled egg yolks. I think this may be the first time I have ever seen that in a recipe. Maybe that just means I am not very well-versed in recipes, but.... I don't know. I was surprised, and decided I had to try it.
It did not disappoint. I wish I had been paying more attention and actually cut the shortcakes as thick as they were supposed to be, because mine are really thin, but oh well! Maybe that just means I'll have to make more?!
Well, I can only make more if my stomach decides it doesn't hate me anymore. Don't just love when you make something delicious, are looking forward to having it as dessert, then suddenly your body goes into mass food rejection mode? Yeah, me either. It, in fact, sucks big time. Not that you needed to know any of that. But whatever. WHATEVER! On to the recipe...
Strawberry Shortcakes
via Smitten Kitchen
Serves 6
1 2/3 cups all-purpose flour
3 1/2 tablespoons sugar
1 tablespoon plus 1/2 teaspoon baking powder
2 hard-boiled egg yolks
1/8 teaspoon salt
6 tablespoons cold unsalted butter, cut into 1/2-inch cubes
2 teaspoons lemon or orange zest (optional)
2/3 cup plus 1 tablespoon heavy cream
Shortcake assembly
1/2 pound strawberries, washed, hulled and quartered
2 tablespoons sugar
1 tablespoon lemon juice
1 cup whipping cream, beaten to soft peaks
In the bowl of a food processor, combine the flour, sugar, baking powder, egg yolks, and salt. Pulse to combine. Add the butter and zest, if using, and pulse until the flour resembles coarse meal. Add 2/3 cup of cream and pulse until the dough comes together.
Turn the dough out onto a lightly floured work surface and gather into a shaggy mass. Knead a couple times to make it into a cohesive mass and then pat it into a rough circle about 6 to 7 inches in diameter, and 3/4 to 1-inch thick.
Using a sharp knife, cut the circle into 6 wedges and arrange on a parchment-lined baking sheet. Alternately, you can use a cookie cutter to make shapes of your choice. Chill for 20 minutes (and up to 2 hours).
Preheat oven to 350°F. Brush the tops of the shortcakes very lightly with heavy cream and sprinkle lightly with the coarse sugar. Bake until risen and golden brown, 18 to 20 minutes. Turn the pan around halfway through to ensure even cooking.
While the shortcakes are baking, toss the strawberries, sugar and lemon juice together in a bowl. Let stand several minutes. (If the strawberries are extremely firm, do this 30 minutes in advance.)
Split the shortcakes in half horizontally and set the tops aside. Place the bottoms on dessert plates and heap strawberries over them. Spoon whipped cream generously over the strawberries and replace the shortcake tops. Serve immediately with any remaining whipped cream on the side.
In photos: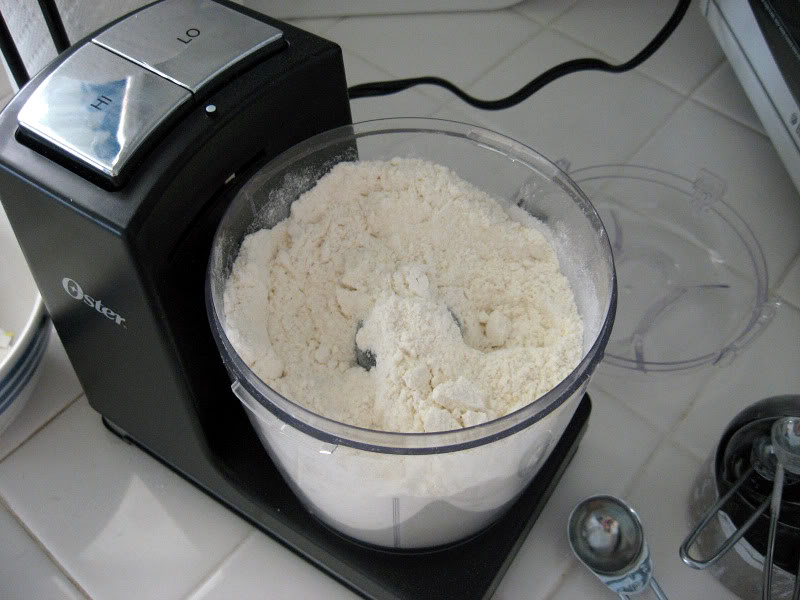 The flour, sugar, baking powder, egg yolks and salt in my teeny-tiny food processor.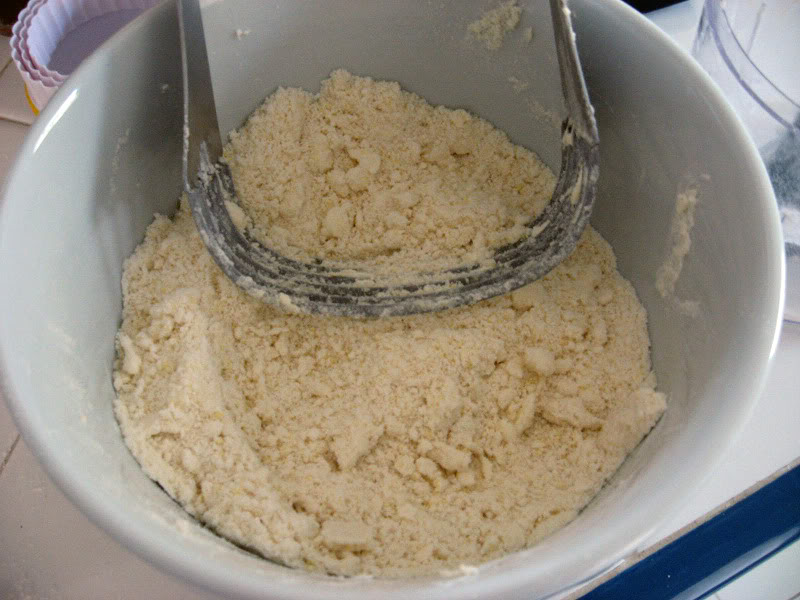 I had to move it to a bigger bowl and use that thingy that I'm blanking on the name of to incorporate the butter. Pastry cutter! There it is.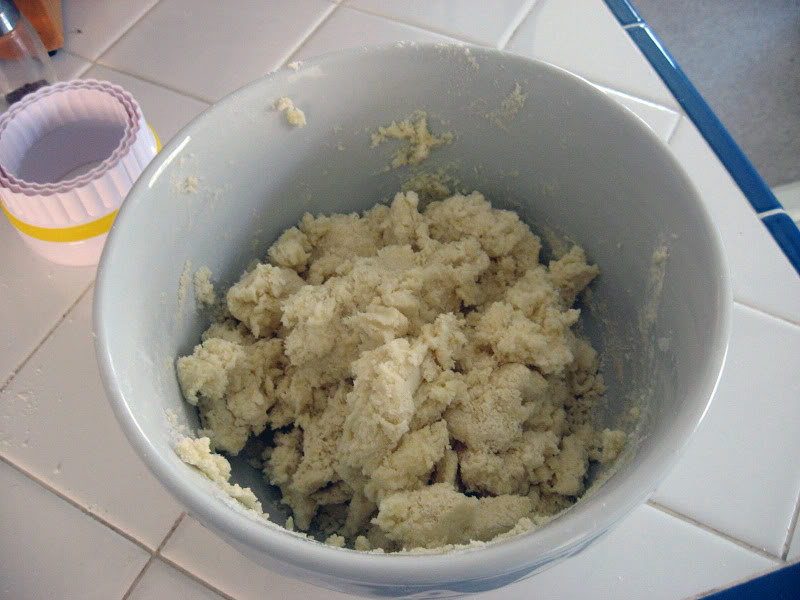 After the cream has been added. Sticky stickiness.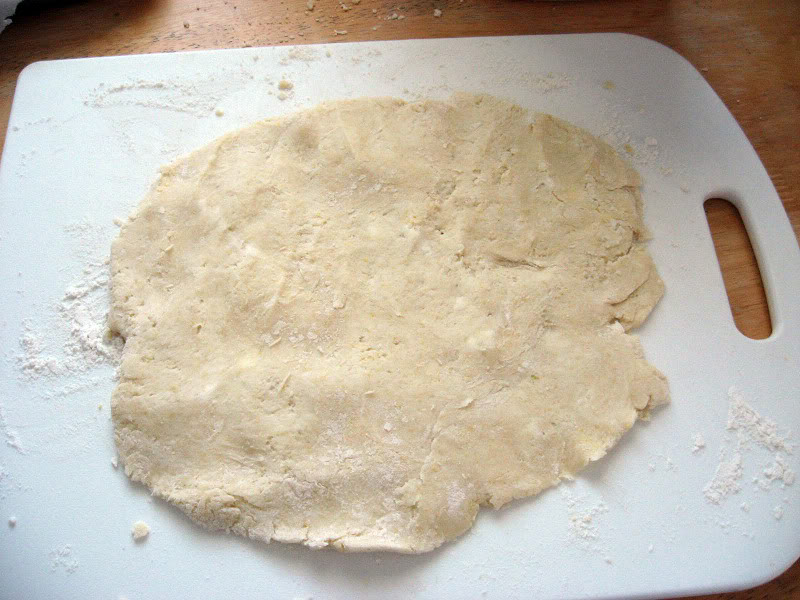 Confession time: I made mine too big and thin.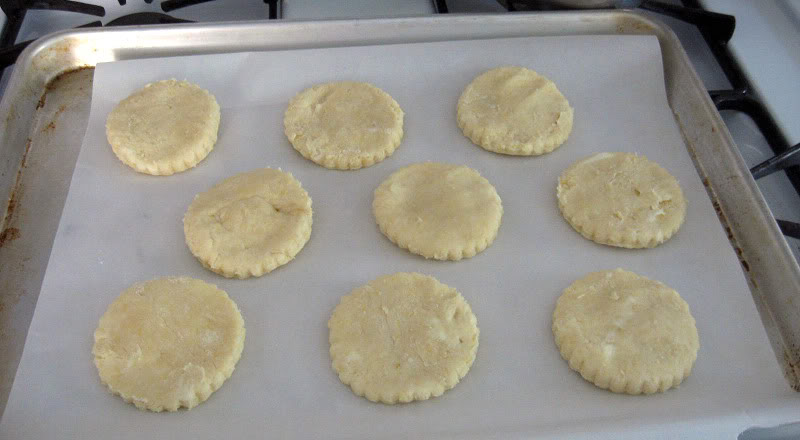 Which resulted in nine shortcakes instead of six. Of course, I was too lazy to start over.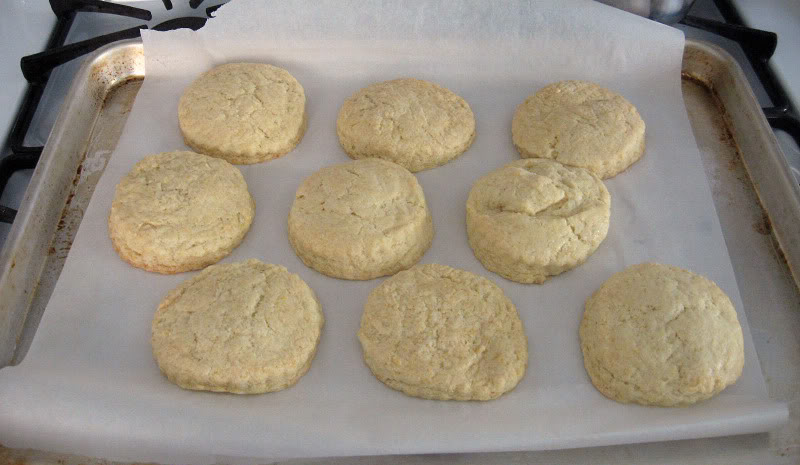 So they didn't come out very thick, but hey, they still taste great.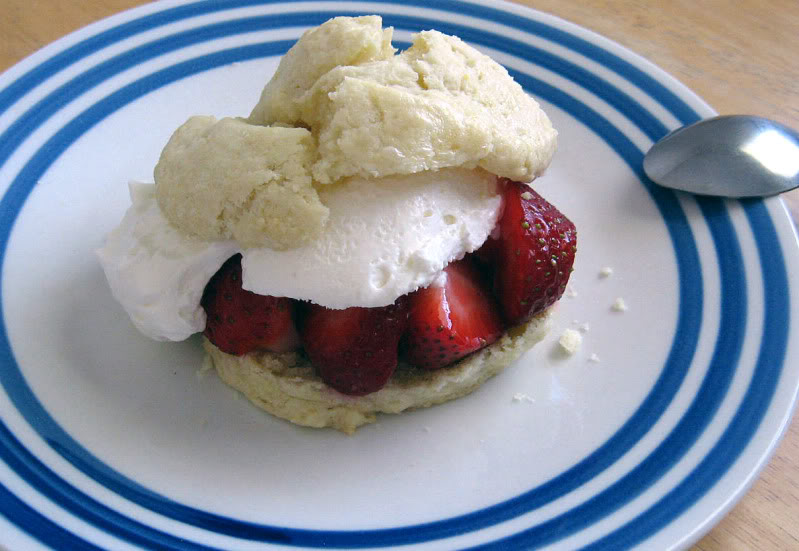 Another confession: I may or may not have just used cool whip instead of making my own whipped cream.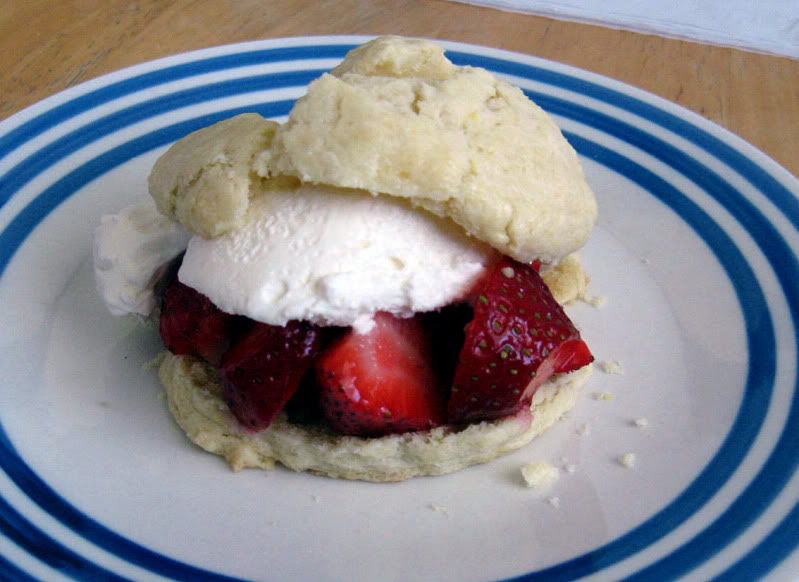 Deliciousness!
-
Strawberry Buttermilk Ice Cream
You guys. Something epic has happened. I got an ice cream maker. Technically an ice cream maker attachment for my Kitchenaid. Same difference. The world will never be the same. Because I? I loooove ice cream. In fact, this is probably a disaster, because...
-
Cream Biscuits
Did you know - it's getting cold outside. Which means my apartment is crazy cold inside. Luckily I live in Los Angeles, so my cold here is, you know, skewed, compared to the rest of the country. As in, there is no way I could survive on a space heater...
-
Raspberry Buttermilk Cake
Oh Costco and your huge portions of food. I see a flat of bright red raspberries and I just can't resist. I mean, seriously, how pretty are they? The answer is: very pretty. Perty even. Thus, with many a raspberry coming out of my ears, I went searching...
-
Strawberry Streusel Bars W/ White Chocolate Drizzle
I am not ashamed to admit that this is another strawberry recipe. What can I say? I love me some strawberries. A lot. What I can also say: please buy organic strawberries. They are so, so, so much better, it's amazing. I had some from Costco, and...
-
Strawberry Clafoutis
Today I bring to you something I had not heard of until a few months ago. Something I am kind of sad I had not heard of before that, because dang, it's pretty delicious. Something called... clafoutis. Clafoutis. Say that three times fast. Clafoutis...
Lists